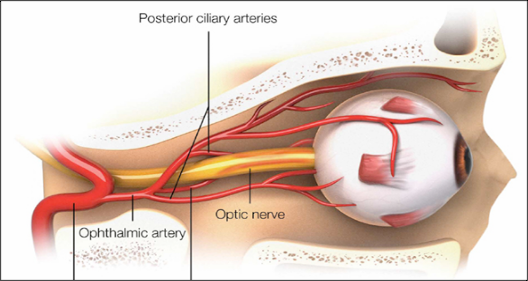 OcuDyne began over a decade ago with the hypothesis that compromised blood flow to the back of the eye exacerbates the progression of AMD as well as other eye diseases.
This hypothesis considers that complement activation, known to be associated with AMD, and neovascularization, known to be associated with wet AMD specifically, are both driven by the lack of oxygen and nutrient exchange in the retina. The lack of oxygen due to compromised blood flow in any tissue of the body is called hypoxia. It has long been established that complement activation and neovascularization are exacerbated by hypoxia.
OcuDyne's contribution to this body of knowledge includes the discovery of compromised blood flow to the back of the eye that is progressively impaired as the stages of AMD progress, especially in the dry form of AMD.
By the time the disease progresses to the late stage of either the wet or dry form of AMD, profound vision loss can be experienced. Current drug-based treatments for wet AMD can provide some relief by blocking the neovascularization and exudation; however, the only available drug-based treatment for dry AMD (in the United States) will not restore lost vision, but only slow continued vision loss. Improved ocular perfusion may disrupt the disease process, providing a potential treatment that could slow the development and progression of both the neovascularization in wet AMD and the atrophy in dry AMD.
To initially test the hypothesis that compromised blood flow to the back of the eye may be exacerbating the disease process, a high field strength MRI research project that included eyes with and without AMD was conducted.[1][2] This study demonstrated a statistically significant correlation between reduced blood flow in the ophthalmic artery and AMD disease progression.
OcuDyne's research efforts include:
Cadaver studies on specimens with and without reported AMD to examine the major arteries that supply blood to the eye.[3][4]
Non-invasive 7-Tesla MRI studies in symptomatic AMD patients and age matched healthy controls to examine anatomy and blood flow rates to the eye.[1][2]
OcuDyne has a robust pipeline of over 40 filed and issued US Patents covering a variety of R&D initiatives.
Development Timeline
1997: Dr. Ephriam Friedman proposes that decreased choroidal perfusion causes AMD due to scleral stiffening. Though Dr. Friedman's theory or mechanism has been proven in error, the story of defining the influence ischemia or ocular perfusion deficits present in this patient population was just beginning and has evolved, as the knowledge base has grown.
2006-2008: Jeff Franco and Dr. Judah Folkman work together on a project that involves the HIF1a and VEGF proteins.
2007-2010: Jeff Franco notices the use of Anti-VEGF therapies in AMD. He begins researching ocular perfusion.
2010: Kemal Schankereli and Jeff Franco discuss some of Kemal's past cadaver work involving calvarium and potential implications of restricting blood flow to the eye.
2010: Michael Calhoun and Jeff meet

2011: Jeff, Michael and Kemal begin discussions and explorations around ocular perfusion and the potential role that traditional, focal cardiovascular disease might have in AMD.
2011: Jeff and Michael meet Dr. Phil Rosenfeld. Dr. Rosenfeld provides a rough preliminary outline of the many and varied questions that would need to be answered before a therapy could be explored.
2013: OcuDyne is formed. First 3T MRI images of AMD patients produced. Over 30 cadaver studies of healthy and diseased patients support the hypothesis that traditional cardiovascular disease is involved in the progression of some forms of AMD.
2014: A non-contrast 7T MRI algorithm for imaging and blood flow measurement of AMD and control patients is developed. IRB approval is granted to conduct a 7T imaging study on healthy and diseased patients.
2015-2017: Non-invasive 7T MRI imaging studies on living AMD patients and healthy age matched controls begin to demonstrate that AMD patients have compromised blood flow and a consistent endovascular disease profile.
2017: OcuDyne begins working on development of the OPTiC System, which is a neuro focused tool set for endovascular treatment of AMD and OcuDyne begins collaborating with key Interventional Neuroradiologists.
2019: A Prospective, Multicenter, Open-Label Clinical Study to evaluate the OcuDyne OPTiC System is approved in Australia.
2020: The Australian clinical trial is put on hold due to the COVID-19 pandemic.
2021: Work continues on development of the OPTiC System. OcuDyne publishes the results of the 7T study.
2022: A Prospective, Multicenter, Open-Label Clinical Study to evaluate the OcuDyne OPTiC System is opened in Argentina.